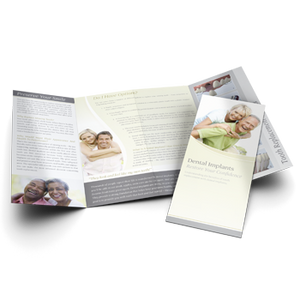 Dental Implant Pamphlets
Regular price $75.00 Sale
These tri-fold, four color pamphlets begin the education process regarding dental implants. They specifically identify you and your practice as your referrer's preference of specialist. In fact, the referring doctor's name and address are printed on the cover page of the brochure. Typically, 100 pamphlets are given in a display stand to your entire referral base (usually about 50 dentists per surgeon.) The guidebooks and guidesheets can also be personalized with your practice name.
3 Steps to Personalized Dental Implant Pamphlets:
Select quantity of 5 packages or more
Select personalization (Yes)
Add to cart and check-out
Our team will contact you with 48 business days to start the customization process. Have questions or prefer a phone order? Call (800) 929-7247 and ask for Anthony!
Also available in packages of 100 @ $75.00/pkg.